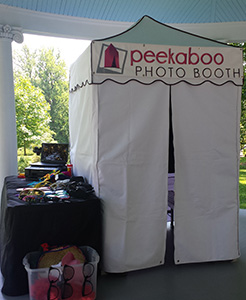 Peekaboo Photo Booth is a national photo booth rental company devoted to making your event unforgettable! Weddings, Corporate Events, Parties, Mitzvahs, Fundraisers and Reunions are perfect occasions to unite your guests with the fun and hilarity of our unique photo booth experience. All Our Packages come complete with unlimited, duplicate photo strips, an on site attendant, disc of all pictures, online image hosting and props. Our 5′ x 5′ white cabana photo booths are twice the size of a traditional booth and can accommodate large groups while adding exciting and stylish entertainment to any event. Please see the "Locations" page for a complete list of metropolitan areas we service.
With a Peekaboo Photo Booth Rental, your guests enter our chic white cabana photo booth, push a button and begin a sequence of 4 photos. A live viewfinder allows for perfect poses and previews each photo as it is taken. In 30 seconds, the photos appear from a hd printer outside the booth. The print quality is outstanding! One copy for your guests and one for your customized scrapbook. Partygoers will line up and pile in to enjoy this unique photo booth experience. You take away all the evidence and the satisfaction of making your event unforgettable. A Peekaboo Photo Booth Rental is sure to add excitement to any event!
 "Peekaboo had everything I was looking for at my wedding. The booth was classic and the photos it produced were stunning. The Guests Loved it. Thank You Peekaboo Photo Booth Rental!" - Gloria C.