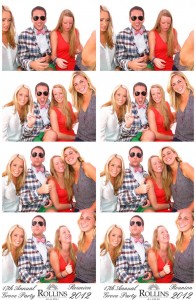 Peekaboo Photo Booth Prints capture candid, original and unforgettable moments. We have fantastic photo quality thanks to our 10 megapixel Canon cameras and High Definition Printers. You won't find photo booths that can top our quality. In addition, all photos are finished with a protective coating to ensure that they will last for at least 100 years. Of course, you also receive digital copies on disc given to you immediately after the event and pics uploaded online.
You have the option to customize your prints by selecting landscape or portrait orientation as well as the number of photos per photo strip. The photos print on 4″x6″ glossy stock. Customize your layout with an original message complete with full color text and graphics included with every rental.
Options
We include with every rental an on site photo tech (assistant), unlimited, duplicate prints, a dvd of all the pictures and props. We also offer online image hosting, scrapbook packages, and one photo for every person in the picture for an additional charge, depending on the package.
On Site Photo Tech – Our photo booth assistants, are not just there to pass out pictures.  That's why we call them "Photo Techs".  Each one has a photographic background and is skilled at properly exposing and printing your pictures.  They deliver, set up the booth, and assist guests with the photo booth the entire service period.
Unlimited, Duplicate Prints throughout the event
DVD:


Photos are saved individually as well as in the photo strip format.   You leave with the dvd.
Custom Message:
With your guidance, we create a full color text and / or image custom message for the prints.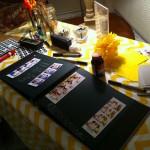 Scrapbook
Our on site attendant assists with compiling the 12″ x 12″ black fabric scrapbook.   We use unlimited 12″ x 12″ black card stock, glue, gold and silver pens.   The finished scrapbook is delivered to you before we leave the event.
Props
a fun variety of hats, glasses, masks, and other assorted items sure to spice up the pictures! –   Always included with every rental.